As Hurricane Florence bears down on the Carolinas, roads and ports are closing down to commercial traffic and allowing only emergency services and supplies to move but soon even that traffic will be halted for safety concerns. This week, our blog is taking a look at how these conditions impact the cargo already waiting and headed for, or through, this storm's ground zero. The issues we'll cover are not likely to be solved with the receding of the water and cessation of the rains; they'll likely last for weeks after the storm as congestion and rebuilding efforts take over in the Southeast US.
First and foremost, the southeastern ports are some of the busiest in the nation, as the Port of Norfolk itself moved almost a quarter of a million TEUs in August alone. Other ports, including Charleston, Baltimore and Savannah will either be closed for the storm and repairs or overwhelmed with cargo rerouted out of the hurricane's path. Adding that to the trucking capacity issues plaguing the East Coast and this storm is a recipe for commercial shipping disaster. This hurricane on the East Coast will not just be an issue for the days the storm hits, but will have a lasting impact across the supply chain which may take several weeks or months to clear up.  Customers will need to be patient knowing that everyone with cargo going into or passing through East Coast ports is also looking for their goods as soon as possible.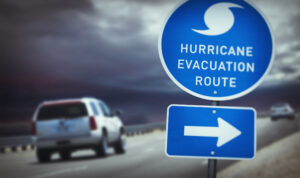 Approximately 1.7 million people in North Carolina, South Carolina and Virginia are under evacuation warnings or mandatory evacuation with four million more residents currently under hurricane watches and warnings. Part of the reason these areas have mandatory evacuations isn't to allow the authorities to go door-to-door physically removing people from harm, rather it's an alert to the community that at a specific time, assistance will no longer be available, leaving 911 calls unable to get help and preventing late evacuees from traversing dangerous roads. It's important to consider that these residents are often port workers, drivers, and support staff that we depend on as an industry.
"This is not going to be a glancing blow," said Jeff Byard, an administrator with the Federal Emergency Management Agency's Office of Response and Recovery. "This is going to be a Mike Tyson punch to the Carolina coast."
We at Coppersmith are dedicated to maintaining the safest and most secure route for your cargo and having shipments move in a timely manner. We encourage our clients to have patience with the coming delays and work with us to discover alternate routes, options and modalities to circumvent delays whenever possible. If you have particular concerns about your cargo, feel free to reach out to your Coppersmith representative for further information.