From a single carton shipment to complete project management.
Export solutions to fit your schedule, routing and door-to-door needs.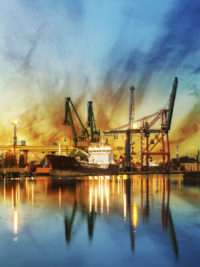 Coppersmith offers innovative export solutions. We have a long-developed network of overseas agents who represent the interests of our customers. We have rates on ocean carriers across the three major alliances as well as contract rates with airlines to key global destinations. By utilizing these partnerships, we can offer a variety of services ranging from delivery to the airport, seaport or paid to the door. Using electronic documentation with airlines, carriers and shippers, clerical errors are reduced to near zero. Information sharing with the destination consignee and agent further reduces the chance of cargo delays. We can negotiate and book directly with any carrier, offering rates, transit time and handling, meeting the needs of the cargo and consignee. Our 70 years of shipping experience goes right to work for you on every export shipment.
Coppersmith are a licensed NVOCC by the Federal Maritime Commission as L.E. Coppersmith Inc., d/b/a/ Adrienne Shipping Line. To view our public tariff, click here.