Seafood is a global commodity that ships all year long from all over the world.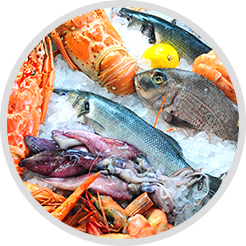 Coppersmith understands the cyclical nature of the seafood market and works hard to make sure all of the frozen and fresh fish we ship is temperature controlled for the freshest delivery with the longest shelf life. We service markets and maintain relationships with strategic partners around the world to ensure we are at the pinnacle of knowledge to bring only the highest quality seafood to your table.
As a world-wide cargo, seafood shipments have exacting standards for quality and documentation and we treat even the most common tilapia filet as though it's a critical Valentine's day lobster. Don't let your seafood shipment make you crabby. Coppersmith's world class team of experts can demystify the experience and answer all of your fishiest questions.