Coppersmith has your animal's health and safety in mind.
We are proud to be partnered with UA and their PetSafe Program.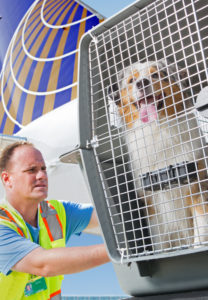 At Coppersmith, we understand that your animals are like family and want to be treated with the utmost care in transit. We understand that animals require more care and transparency on their journey and Coppersmith can offer the peace of mind you need when shipping live animals. Whether you're moving your beloved fur-family members or other live animals, we treat all live cargo with the same consideration we'd give to our own family. For animals arriving in Atlanta (ATL), Chicago (ORD), Dallas-Ft. Worth (DFW), Houston (IAH), Los Angeles (LAX), New York (JFK), Portland (PDX), San Francisco (SFO) or Seattle (SEA), we offer full customs clearance and transportation from any airline.  If you are arriving at another airport not listed, please call or email the closest airport and we can arrange for Customs clearance via Remote Location Filing. We are also the preferred PetSafe partner selected by United Cargo to provide Customs clearance services for animals arriving into the United States.
Special notice for the importation of unvaccinated dogs:
Importation of dogs that are not vaccinated against rabies is allowed on a limited basis.
Unvaccinated dogs may be imported if:
They are arriving from a rabies-free country where they have lived for the past six months or since birth. Check the country list here.
They are being imported for use in scientific research where rabies vaccination would interfere with that research or
They meet the criteria specified in the Issuance and Enforcement Guidance for Dog Confinement Agreements. Read that document on the CDC's website here.
Unvaccinated dogs that arrive in the United States from countries that are not considered rabies-free may be denied entry to the United States. Importing a dog purchased outside of the United States or that originated in the United States does not meet the criteria for a confinement agreement.  All dogs are expected to meet CDC's dog importation regulatory requirements.  Importers are expected to exhaust all other reasonable options for delaying the importation of dogs until they are fully vaccinated against rabies before being considered for a confinement agreement. Questions about importing unvaccinated dogs may be directed to CDC at CDCAnimalImports@cdc.gov